Posted on 6_4_2016






​​​Jim Malone QM3
​​

l really hadn't given much thought to that particular voyage being on my birthday

until you (Tom) sent your email requesting some comments of my thoughts on that day 50 years ago. I'm sure l remember it being my birthday, but l wasn't particularly overwhelmed by the magnitude of how long a trip it was going to be or all the fascinating and beautiful things we would see, and the people we would meet.
l would have to say it was one of the most memorable three months of my young life. l was still trying to figure out what life was all about at that time and where l was going. Looking back, l don't think l had a clue. l do remember standing watches on the bridge when we were returning home in that bad storm with high wind and high seas. lt was truly unbelievable. We were making 1 nautical mile per hour on the chart. When the waves were coming at our bow, you were looking up at them and could not see over them to the waves coming behind them. At night it looked like a black wall in front of the ship. Incredible!
l believe we were so blessed to have Francis Flynn as our captain. l remember we went into dry dock in Boston, Massachusetts before the cruise to have the ship fitted and it was found to have bad bearings and seals on the main shaft to the ships screw. Mr. Flynn made sure that that was repaired before we got underway. He was pressured by Navy higher ups to get underway before those repairs were made, but he held his ground and got the work done. God bless him. He may have been a small man in stature, but was 7 feet tall on the inside.
​Great job on the web site Tom, talk with you soon.
​ Jim Malone Spar'66.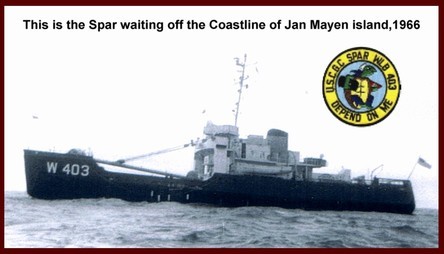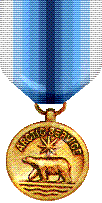 Coast Guard Arctic
Service Medal
50 Years,
Half a century​ !!